Ma devise :
« I have no special talent. I am only passionately curious. »
A. Einstein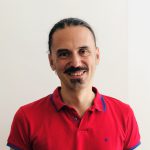 Life Sciences Scientist, Biochemist
With a strong experience in scientific research in life sciences, I like to face new challenges with no fear, always driven by enthusiasm, determination and curiosity. I am willing to bring my contribution to new projects animated with team spirit and collaborative attitude.
Recommandation de Philippe, son consultant

M.Vacca est un homme qui inspire immédiatement confiance. Sensible, calme, attentif, loyal, dévoué et passionné, il appelle à une collaboration sur le long terme. Docteur, chercheur dans l'âme, il a jusqu'à aujourd'hui mené une carrière académique, remplie de travaux spécifiques, de publications et d'enseignement. Il a su mettre ses compétences au profit, tant du milieu universitaire que des entreprises privées qu'il a régulièrement conseillées. Aujourd'hui, il se trouve à un tournant professionnel, puisqu'il souhaite se rapprocher de ces dernières en s'y investissant de l'intérieur. Son expertise et ses compétences de pointes seront de forts atouts pour le succès de vos de recherches et développements.
Mes entreprises précédentes:
University of Geneva
Regina Elena Cancer Institute, Rome
University of Rome La Sapienza
European Brain Research Institute/Ospedale Santa Lucia, Rome
Mon Parcours

I have always been attracted by science and fascinated by men and women that contributed to the progress of humanity with scientific discoveries. That is why I went first for a university degree in physics, then definitively moving to molecular life sciences.
I began my academic path in basic science in a cancer research institute in Rome, then in the biophysics department of the university. I spent there four years, getting a PhD in Neurophysiology investigating the molecular bases of neuronal transmission. At that time, I could not see myself in a different job than that. The idea of discovering basic principles of life and contribute to help sick people was really the objective of my life.
I continued than my research in a Neurology Hospital in Rome, participating and leading research projects on human brain diseases (Neuroinflammation, Ischemia, Alzheimer, especially). This job gave the possibility to interact with medical doctors and companies interested in drug discovery for these diseases.
Always passionate by new challenges, I accepted a job in the University of Geneva. The project was at the interface between basic science and human disease: the study of lipid traffic in cells, in the context of a rare fatal hereditary childhood disease called Niemann-Pick C disease. It turned out to by a very fascinating but also very challenging project, but the research I conducted will hopefully give some more chance to patients and their families.
I had the chance to interact with families and patient organizations, which has a very touching and motivating part of my job. I also participated in fund raising initiatives merging with the second passion of my life, endurance race cycling.
In the University of Geneva, I also had teaching responsibilities and I really enjoyed interacting with students trying to discover and develop their curiosity for Science.
Over the years, I had the possibility to present my research in scientific conferences all over the world, exchanging ideas with other scientist and interacting with people coming from several different countries.
Mes réussites

When I joined the University of Geneva in 2007, I was assigned a project on the Niemann-Pick C disease, an hereditary disorder that causes dysregulation of cholesterol in cells. While I had a solid background on cholesterol biochemistry, I did not have any knowledge on the disease. The disease was difficult to study in vitro due to the lack of easy-to-handle cellular models. As a first step, I managed to establish a model of the disease based on gene silencing and later by gene KO.This allowed me to study in detail the biochemical pathway involved in the disease and I could study in detail the mode of action of a drug that is now in clinical trial phase for patient treatment.
In 2012, in our laboratory it was necessary, for various research projects to quantify the amounts of an atypical lipid (LBPA) by mass-spectrometry. The quatification was very challenging and while having a background in lipid biochemistry, I was not familiar in mass-spectrometry quantification. I contacted the mass-spectrometry facility in the EPFL in Lausanne and started a close collaboration with them that allowed me to acquire competences on this field and finally find a technical solution to quantify unambiguously this lipid. The method was then used to quantify the lipid in cells and tissues, leading to several important publications. The method also remains in the EPFL facility, and they continue to propose to external costumers.
During my research career, I conducted several research projects which lead several publications in peer-reviewed journal. I also presented my work in several international scientific conferences. The complete list of publication can be found on my linkedin profile
Mes formations

PhD in Neurophysiology at University of Rome "La Sapienza" – 2004
University degree in Molecular Biology at University of Rome "La Sapienza – 1998
Biochemistry
Cell Biology
Lipid biology
Microscopy
Teaching
Italian (Mother tong)
English
Spanish
French
Ma maîtrise des outils informatiques

Word
Powerpoint
Excel
ImageJ
Photoshop